Current speleological projects: preparing maps and models of Fig Tree Cave and Victoria Arch, which are parts of a large showcave at Wombeyan Caves, NSW. This was mapped by members of SUSS over many years. The large arch was scanned by R. Zlot and the point cloud used to correct that part of the cave. A small preliminary plan was published in the SUSS Bull. This is the first time it has been modelled. Software tools of choice: cavern, aven, therion, xtherion and loch, with gvim for general editing on Debian Linux. Cloud Compare was used to view and correct the model of that part of the cave that was laser scanned.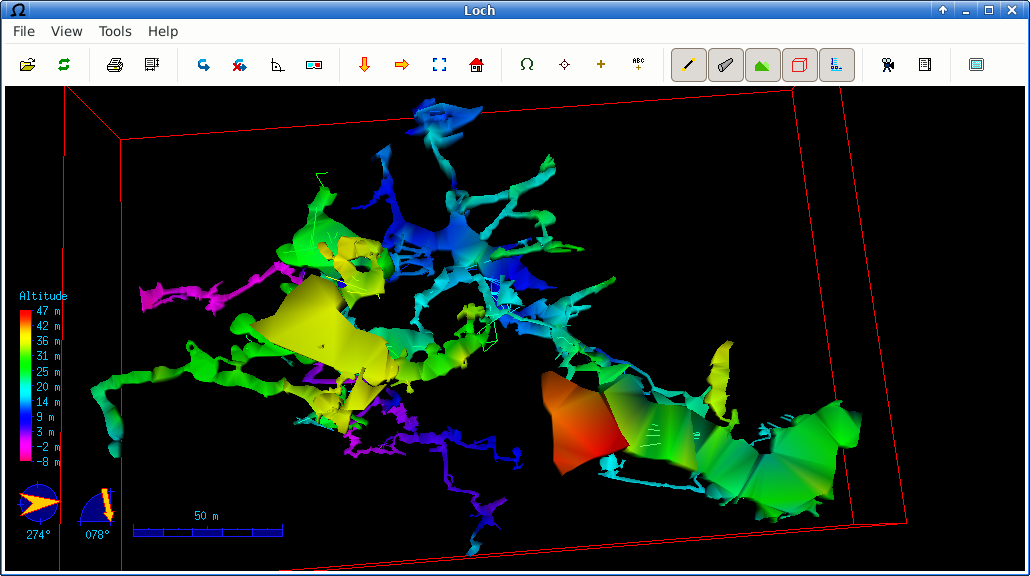 Screenshot of Fig Tree Cave modelled with 'loch', 140 kB png image.
To prepare this image, Jill used gvim to enter the field data, cavern and aven to verify each section, ported to therion (minor edits to fix the format), xtherion to create the cave outline and therion to compile the output into the desired format. Loch is then used to view the model, and a screenshot of the view to create this png file. The advantage of this process is it runs on a machine with a small amount of storage, limited graphics, and it runs brilliantly fast. For Victoria Arch, the point cloud is wonderful and shows plenty of detail, but it is only a portion of the whole cave. To merge the point cloud data with the compass / clino and disto data, Jill took sections using Cloud Compare, and used them as outlines in xtherion. On Jill's small computer, Cloud Compare runs slowly. It's best run without any other applications as it needs as much memory as possible.
Jill is also writing the cave description and will add some geomorphology. Software tools for publications are either pdflatex if Jill does the publishing, or LibreOffice if someone else does.
Jill Rowling has been caving since 1988 when she was introduced to the hobby by her (then) fiancee, Dr Mike Lake. She is a member of Sydney University Speleological Society (SUSS), the Sydney Speleological Society (SSS) and ACKMA, the Australasian Cave Karst Managers Association http://www.ackma.org/index.html
Ever since she was taken to a show cave as a child, she has always wanted to know what was the cause of the shapes and patterns that she saw. Frustrated with the usual handwaving arguments for explanations as to the origin of speleothems, she is trying to find more precise reasons for the existance of a number of speleological features such as helictites and microgours. Like the growth of speleothems themselves, discovery takes time. Along the way, there have been a few discoveries such as Ribbon Helictites, the study of which has led to a better understanding of the structure of "normal helictites" (see Articles).
Jill has caved in Australia in New South Wales, Victoria, Tasmania and South Australia; overseas in Fiji, Switzerland and Czech Republic. She has visited Australian showcaves in NSW, Tasmania, South Australia and Western Australia, and overseas in Austria, Czech Republic, New Zealand, Slovakia and Slovenia.
Jill received a Master of Science degree from the University of Sydney in 2005, on the topic of "Cave Aragonites of NSW". The thesis (book) is in Fischer Library and is available on-line in the Digital Thesis Project, https://ses.library.usyd.edu.au/handle/2123/694
If the link above does not work, use a general search.
Jill occasionally gets involved in cave politics with the Australian Speleological Federation, the NSW Speleological Council https://www.caves.org.au/new-south-wales-club/25-new-south-wales-speleological-council and semi-government bodies.
Jill is an Electrical Engineer (BE, NSW Institute of Technology (now University of Technology Sydney), 1986) with past experience in data communications, disk controllers and microcontroller system development, industrial electronics and radio. Previous work included Unix Systems Administration, looking after several Sun (Solaris 7 and 9), Linux (Red Hat) and Windows 2003 servers, maintenance of electrical and 3D CAD systems, web site maintenance, tape backups / restores and license renewals. These days she uses mainly Debian Linux on a Dell laptop, and occasionally trundles out a vintage MacOSX laptop for textile weaving software.
When she is not investigating cave matters or managing Marlyn Alpaca ( http://www.marlynalpaca.com.au ), Jill can sometimes be found spinning, weaving, quilting, gardening or knitting depending on the weather.
Site notes
The colour scheme is still based on the colours you see around cave entrances, while keeping to pastel shades.
The original pages used frames; I decided to ditch them and re-do the navigation using CSS, as some people complained about the frames, and I got annoyed with button images taking ages to download on a dial-up or satellite link.
I've added a few more topics and given the Articles their own page.
Updated on 10th November 2021
Comments may be addressed to jillr at speleonics dot com dot au.